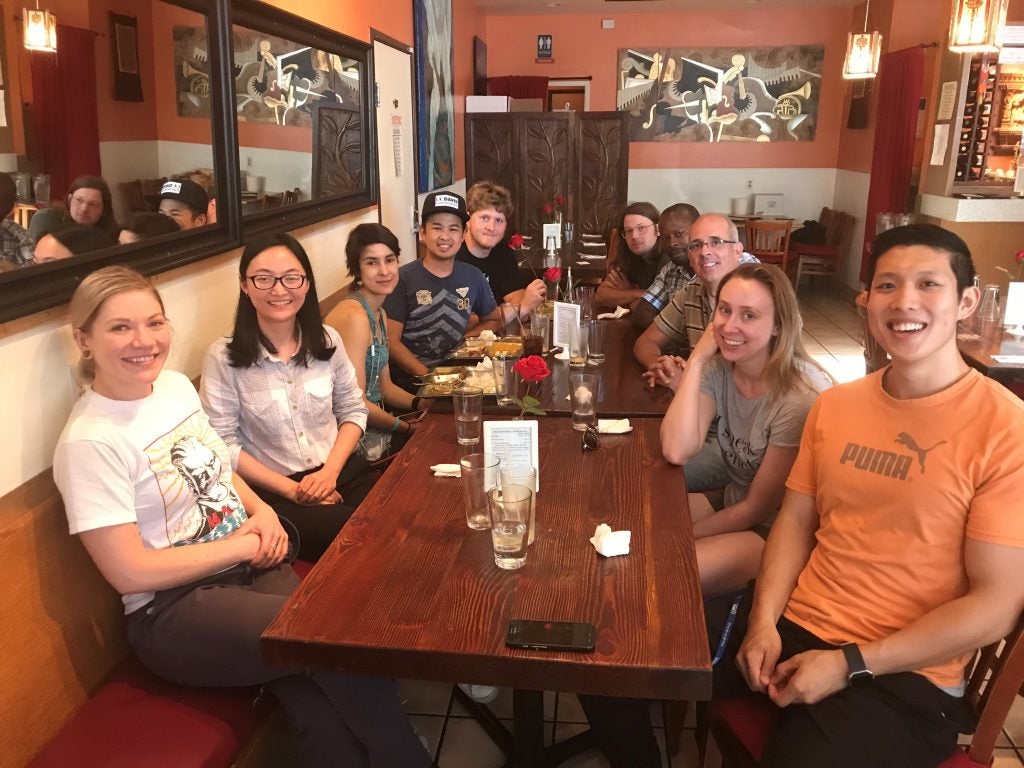 Goodbye lunch for Ellie and Sandra, who move on to new career opportunities. Congrats, although we are sad to see you leave. FLTR: Lorena, Ellie, Sandra, Hung, Chris, Peter, Fidele, Johan, Brianna, and Sampson.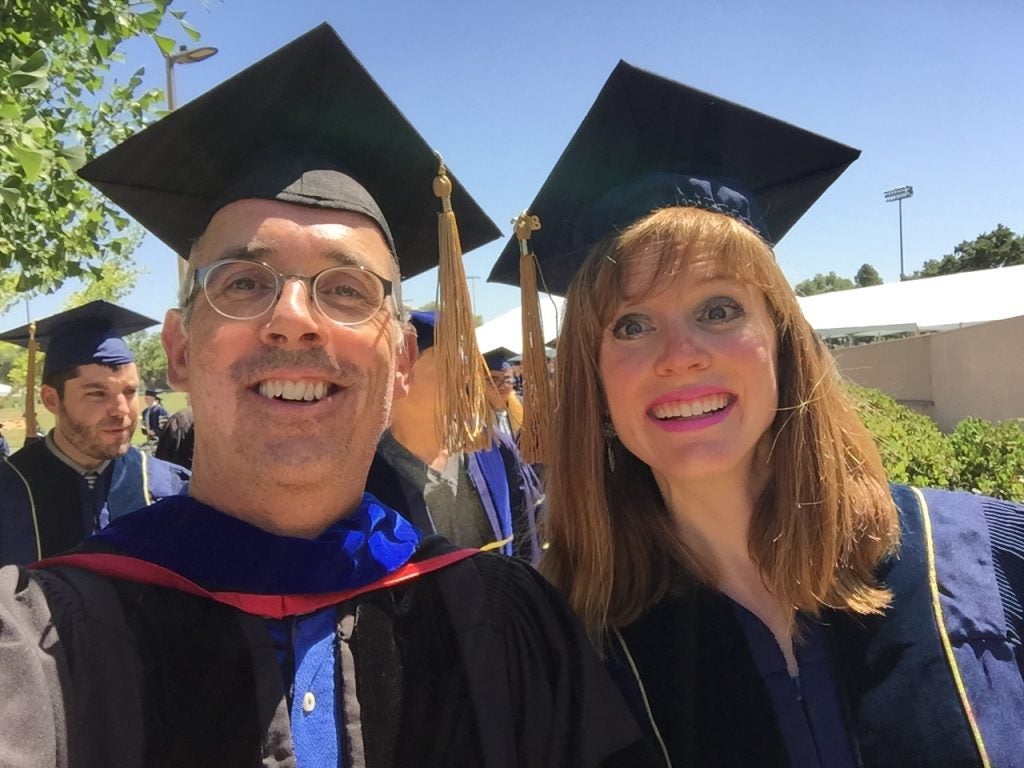 With Hung as he receives the 2017-2018 Chancellor's Achievement Award for Diversity and Community in the Graduate Student category! This award recognizes Hung's contributions in enhancing inclusiveness and diversity within the campus community.

Proudly presenting the graduates in Global Disease Biology at the 2017 Fall Commencement ceremony. Congratulations!

End-of-year holiday party (December 2017) – well-executed photobomb.

End-of-year holiday party (December 2017) – official version.

Lab bowling (Davis, September 15, 2017). From left to right: Emily, Kaitlyn, Fidele, Ellie, Johan, Lorena, Sandra, Hung, Peter, Sampson.

Posing with Dave and (part of) the Spring 2017 Global Disease Biology graduation class. Congrats everyone!

Farewell dinner for Nilesh (Davis, March 23, 2017). From left to right: Peter, Fidele, Hung, Kaitlyn, Sampson, Nilesh, Johan, Lorena, Sandra, Emily.

In front of the American Society for Microbiology (ASM) Headquarters in Washington DC for the @ASM meeting on The Individual Microbe, March 18-20, 2016

Group photo from the 10th International Symposium on Phyllosphere Microbiology in Ascona, Switzerland, July 19-23, 2015

Lab Leveau wins the 2015 edition of the Annual Plant Pathology Bocce Ball tournament!

Thanks for the endorsement, Estelle!

Goodbye drinks for Estelle, Bistro 33, downtown Davis, May 2015 (from left to right: Isaac, Peter, Nilesh, Hung, Estelle, Johan, Lorena, Sandra, Jennifer)

Jennifer's poster presentation at the 26th Annual Undergraduate Research, Scholarship and Creative Activities Conference, UC Davis, May 2015

Johan with Je-Jia Wu (left) and WenLing Deng (right) at National Ching Hsung University, Taichung, Taiwan, 2014

Johan, Emily, Jan, Robin, Nilesh, Gurdeep, Ratna (Gurdeep's wife), Natalie, and Lorena at the goodbye dinner for Gurdeep, Davis, 2012

Gurdeep and Jan showing off their favorite lettuce, field trial Salinas Valley, 2012

Johan with Stephane Uroz, sampling soil at the Jug Handle State Natural Reserve, Mendocino County, 2010

NIOO crew: Tanja, Annemieke, Robin, Johan and Mitja, Phyllosphere meeting in Corvallis, Oregon, 2010

Jan and Johan at the official Lab Leveau opening, 2009